"A Sad Saint is a Bad Saint" - Teresa of Avila
We're on a mission to help Catholics come together, sharing the fun, adventure, and beauty of the faith.
When was the last time you laughed really hard with your friends? Is your family on screens too often? Want something to do with your friends? We have a solution for you!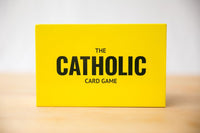 THE GAME FOR CATHOLIC ADULTS
Other party games make you feel like you need a good Confession and many Catholic products are too childish or academic.
The Catholic Card Game provides clean entertainment without sacrificing quality or fun. 
Easy to play - Relatable - Hilarious 
Buy the Catholic Card Game
NEW! Catholic Stickers - On Sale Now
Have an Amazing Time with games that are: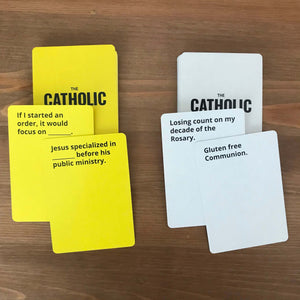 EASY TO PLAY
Start playing within minutes! Our games are easy to learn for anyone playing.
Read the Rules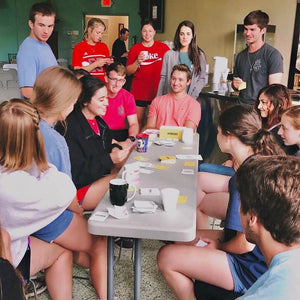 AUTHENTICALLY CATHOLIC
As Catholics ourselves, we made this game to capture our shared life and culture.
Read Reviews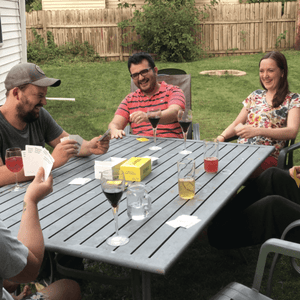 FUN!
Who wants to play a game that isn't any fun?! Our games guarantee a fun & faithful time for everyone playing.
Buy a Game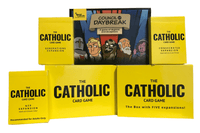 MEET THE HOST & CHOIR OF GAMES
Meet our Mafia Style Council at Daybreak!
Try one of our great expansion packs!
NFP expansion not recommended with kids or inlaws...
Explore our games
And All God's People SAy:
Hilariously awesome!

You can tell that this game was created by faithful Catholics. The cards capture so many of the inside jokes of Catholic culture. The simple gameplay makes it quick to learn, and the humor makes it fun. There is also plenty to learn for those who are less familiar with the Bible, Catechism, and Tradition.

Aidan
The. Best.

This game is super fun!! We love playing it with family and friends. This game is part of the new evangelization.

Jaci
Great Catholic Laughs - With a Bishop!

This is a great game! I first played it at a young adult event... Later on, I was at a family dinner for our Bishop. After dinner we brought the game and we played through the whole deck. He loved the game! Overall, I highly recommend it

Joseph
Excellent Family Game

I love this game! I am a practicing Catholic and always trying to get my kids and husband involved. This game is a perfect conversation waiting to happen. We even looked up some Catholic facts for discussion. We all had fun playing! My daughters can't wait to play it again! My 17 yr old wants to play it with her friends! What a great evangelization tool!!!!!




Holly
Always a good time!

I love pulling this game out with my friends! It's always so fun and the humor is Catholic and clean! It captures Catholic culture well, but it includes enough biblical references and Christian jokes that my non-Catholic friends enjoy the game too. I definitely recommend this game for all!

Lindsey
My friends and I love this game! We probably play at least once every time we get together and we've even managed to play over Zoom! It's so much fun, gets us to learn more about the faith, and is such a good conversation starter. I just love that there are now awesome holistic games to play that are fun for everyone without needing to get raunchy or inappropriate. Expansion packs are hilarious too. Can't wait for the next ones!

Natalia
Fantastic Game!

I bought this game for the students at my Catholic College Student Center and it has been a huge hit. It is great fun and has the added benefit of being extremely conducive to teaching more about the faith.
Excellent quality cards, print, and box. Expansions are also just as good as the original, no drop off in quality content whatsoever.

Jonathan
tap to Listen to what the saints are saying! (seriously listen through these)
it's easy to play!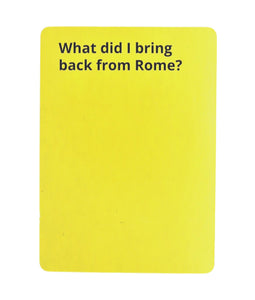 Read a Prompt Card
The Judge of the round draws and reads the prompt on the card.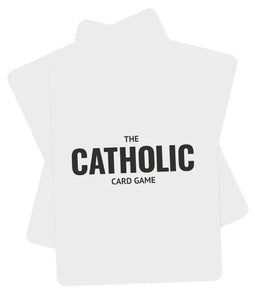 Other Players Play a Card
Each player plays a card from their hand that they think the Judge will choose to win.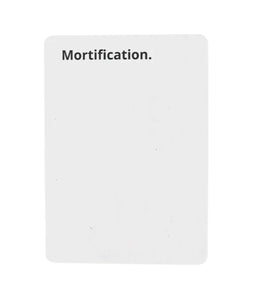 A Winner is Chosen!
The Judge chooses one card to win. Play continues with a new prompt card and judge.
PLAY THE CATHOLIC CARD GAME ONLINE
On your phone or computer, play with your friends and family in English, Spanish or Italian! Perfect for long distance games with your loved ones!
buy the online version now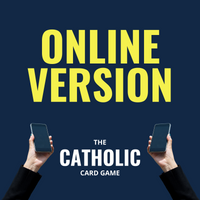 Other Fun Catholic Products
Your burning questions.
Where can I buy these amazing, Catholic games?
Will I have a good time playing these games?
Is Mary the theotokos?? We guarantee you will! Our games will make you and your friends & family laugh and build community or you can shake the dust from your feet and send it back.
Do you ship outside of the US?
God's love and our games know no boundaries. We ship all over the world. If your country is not listed when you reach checkout, email us and we will make it happen. info@catholiccardgame.com
Do you make other games besides the Catholic Card Game?
Can my kids play?
We made the Catholic Card Game for adults, but anyone above the age of reason can play. Like a Bible podcast needs a parental warning, because of certain themes, so might the Catholic Card Game. If you aren't reading Genesis or the Song of Solomon with your kids, there will be a few cards to keep only for your adult game nights. *NFP expansion not recommended for kids and in-laws.
Can I play the Catholic Card Game online?
Am I my brother's keeper?
You sound defensive. What did you do?
Can I sell these games at my Catholic store?
Has the Pope actually played this?
No, just bishops, priests, and other sinners - but how cool would that be?
Are you a big company? I only support small, Catholic companies.
Then we're a match made in Heaven! We are a small, family company. Matt runs things, Lisa writes the funny cards, and our kids don't do anything really (they're young, its fine). We also partnered with the small team at
Catholic Support services
.