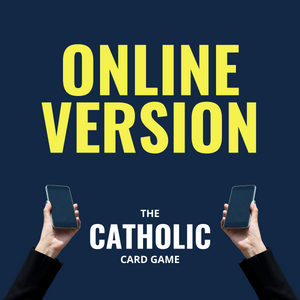 We have brought the Catholic Card Game online so you can play with your friends and family, even when you are far from each other. In English, Spanish & Italian!

The online version playable on your phone or computer on the web; it is not an app that you download.
This is not a subscription, $24.95 gets you lifetime access to the online version of the Catholic Card Game in all 3 languages.
Play at ccg.lol
How it Works
Once purchased, we will send you your log in info. You will go to ccg.lol, log in, and then from there you can host a game. When you host a game, you are given a 4-digit code that other players type in at ccg.lol and can join. They do not have to purchase access themselves. There is a "room" limit of 8 players per game.
See how to start a game here: https://youtu.be/opxzCQR8Yjs