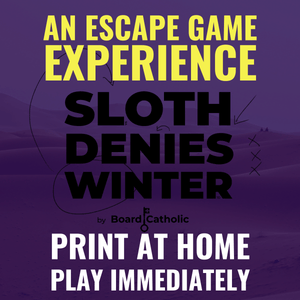 A print at home, escape game experience where you will work to decipher 12 pages of puzzles, riddles, clues and codes to decipher the final answer key and complete the game!
It is themed around Lent immersing you in a deserted land where a good friend has gone missing and it is up to you to find them!
It can be played with 1 - 4 players (or more if you want!) This is great as a date night activity or for a family or group to work on together. Any ages can play - players need to be able to read and problem solve to have the best experience. 
Your purchase includes both NOVICE and EXPERT versions of the game. The puzzles are the same but the overall difficulty varies between the two versions.
To play, all you will have to do is print the game, grab a pen for everyone, and you are ready to go! Instructions on how to print and play are all included.
If you are unable to print the game at home, you can purchase this version and I will mail it to you.