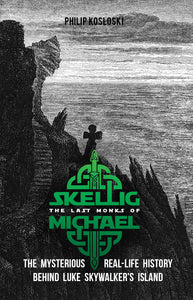 A long time ago on an Irish island not so far away...

Return to Luke Skywalker's island from "Star Wars: The Last Jedi" and discover the fascinating real-life history behind Skellig Michael, an enchanting isle off the coast of Ireland where an ancient Christian monastery continues to inspire those who come there.
Learn about the Jedi-like training that occurred on this island according to the traditions of devout Catholic monks.
Immerse yourself in an age when warrior monks were on the front line of a spiritual battle against the dark forces of this world.
Monks meet Jedi in an engaging read that invites the reader to discover the surprising parallels between fact and fiction and what these heroic men can still teach us over a thousand years later.
74 pages
Paperback edition
"Philip Kosloski's The Last Monks of Skellig Michael illustrates the unique place this remote location has played not only in Church history but also in the Star Wars universe. Kosloski takes the reader on a journey with the Irish monks who lived, worked, and prayed on this topographically challenged island providing its past and present history. This book is not simply a telling of the heroic monks and their monastery in this "desert" island off the coast of the Emerald Isle, Kosloski also provides spiritual resources for the reader's use in order to deepen one's faith in imitation of the last monks of Skellig Michael."
-- Steve Weidenkopf, author of Timeless: A History of the Catholic Church and Epic Study Series by Ascension Press
*Revised and updated, along with an appendix of ancient Irish prayers.
*Note: Free Shipping for orders over $25 goes slower. It may not arrive by December 25th.